Power Cables Dealer, Distributor, Supplier & Stockist
Techno Flex Cables are registered supplier of high quality Power Cables. Cables being offered by us are manufactured using premium quality raw materials. Plain annealed copper power cables insulated with PVC coating is are being offered by us. These products are offered in different size and shapes. Cables offered by us are good conductors of electricity. Products offered by us are quality tested to meet international industry standards.
Electric Power Cables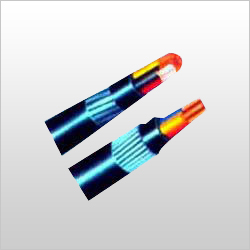 We offer a comprehensive range of Power Cables available in plain Annealed copper. These power cables are further insulated with PVC. These wires are fire and heat resistant as well as these wire are insolvent to oil and water. These power cables are available in multi core armoured construction and various sizes.

Techno Flex manufacture high quality heavy duty power cable confirming to IS: 1554 (Part -1) L.T. 1100 volts grade

Construction Details
CONDUCTOR
Plain bright annealed copper / alluminium, solid / stranded conductor confirming to IS: 8130: 1984.
INSULATION
Type A, B, & C (HR) grade according to IS: 5831 : 1984 amended up dated.
INNER SHEATH
Inner sheathing shall done by extrusion or by PVC tape binding that laid up cores shall not loose and prevent to water entering.
ARMOUR
Gl armour wire / strip provides not only mechanical support but also earthing. The material use an according to IS : 3975 : 1974 amended up dated.

OUTER SHEATH
Extruded STI / ST2(HR, FRLS, Halogenfree FRLS) type PVC is used according to IS : 5831: 1984.
APPLICATION
In Thermal Power Station; Petrochemical Refineries; Steel & Cement Plant; Distribution System; Digital Control and Monitoring & Information systems; Air Ports; Building Towers; etc.

Techno Flex manufacture heavy duty Power Cable comprising of cores Single / Two / Three / Three & Half / Four Of Alluminium Conductor, PVC Insulated cores laid up, PVC Inner Sheathed OR PVC tape binding, GI wire / Strip Armoured & overall PVC sheathed cable confirming to IS : 1554 : Part-I.
Basic assumption for Current ratings
(1) Max. Conductor Temp. : 70°C
(2) Thermal resistivity soil : 150°C CM/W
(3) Thermal resistivity of rvc : 650°C CM/W
(4) Ground temperature : 30°C
(5) Amb. air temperature : 40°C
(6) Depth oflaying : 75 cm (highest pt. of cable laid)